NELSON, B.C. – December 5 th, 2022. Residential real estate sales for the month of November in the region saw sales dip heading into the holiday season, reports the Association of Interior REALTORS® (theAssociation).
A total of 844 residential unit sales were recorded across the Association region in November representing a 48.4% decrease in sales compared to the number of units sold during the hyperactive market of November 2021, with a decrease of 15.6% compared to last month.
"Although the numbers seem far below what we have become accustomed to, comparing sales from this year to last year would be like comparing apples to oranges," says the Association of Interior REALTORS® President Lyndi Cruickshank, adding that "comparing to a typical seasonal pre-pandemic November would represent a more accurate comparison over the frenzied market over the last few years, which would show that we are currently not that far off from an average November.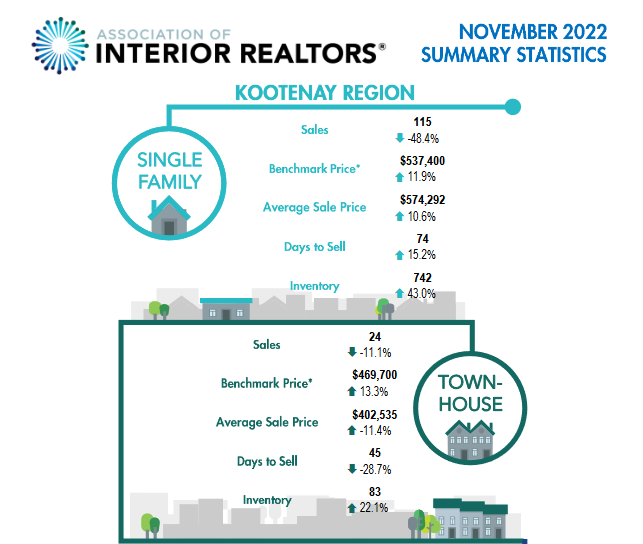 New residential listings saw a moderate decline of 4.6% within the region compared to the same month last year with 1,357 new listings recorded. However, the overall inventory saw a healthy 85.3% boost over the availability in November 2021 with 6,980 units currently on the market; providing more options to buyers.
"While it's great to see that the number of active listings is higher than it has been for a long time, the market remains tight as new inventory seems to be flattening," notes Cruickshank, adding "this is not unusual for this time of year as sellers hold off on listing while they are enjoying the holiday season."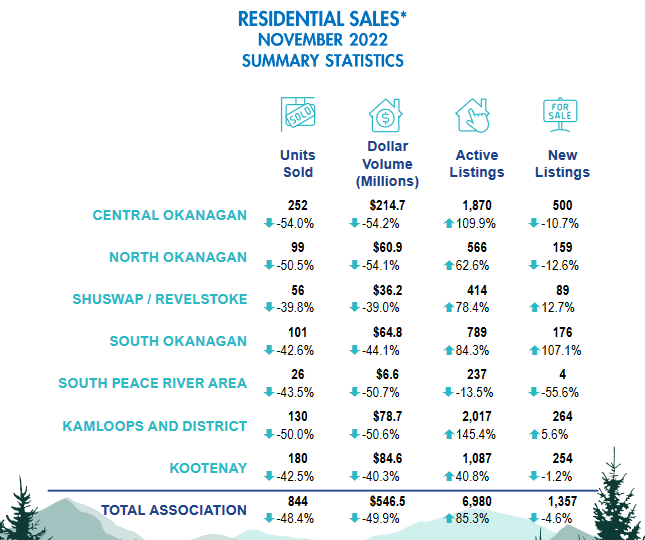 In the Kootenay region, unit sales decreased 42.5% compared to November 2021 with 180 sales recorded in November 2022. There were 254 new listings recorded in the Kootenay and Boundary region in November, down 1.2% compared to the same time last year. The overall active listings in the Kootenay and Boundary region increased 40.8% compared to November 2021 with 1,087 listings overall.
"Unlike other markets within the Association, the Kootenay and Boundary region was only just below average in terms of seasonally adjusted sales activity. This could be a sign that it may well be heading into a more balanced market ahead of other regions," says Cruickshank.
The Benchmark price, a better representation of value compared to the average or median price as it represents a dwelling of "typical attributes", all saw double-digit increases across all home categories in the Kootenay region compared to the same month last year. The benchmark price for condominiums saw the greatest increase in year-over-year comparison for another consecutive month with a 12.2% increase to $282,300.
Given the high stakes on such a significant financial transaction, home sellers and buyers can benefit from the knowledge and skills of a practiced REALTOR®. Contact your Diana to find out more about the real estate market and how she can help you achieve your real estate goals.