Read this article and learn about 5 easy house upgrades you can do that will increase the value of your property…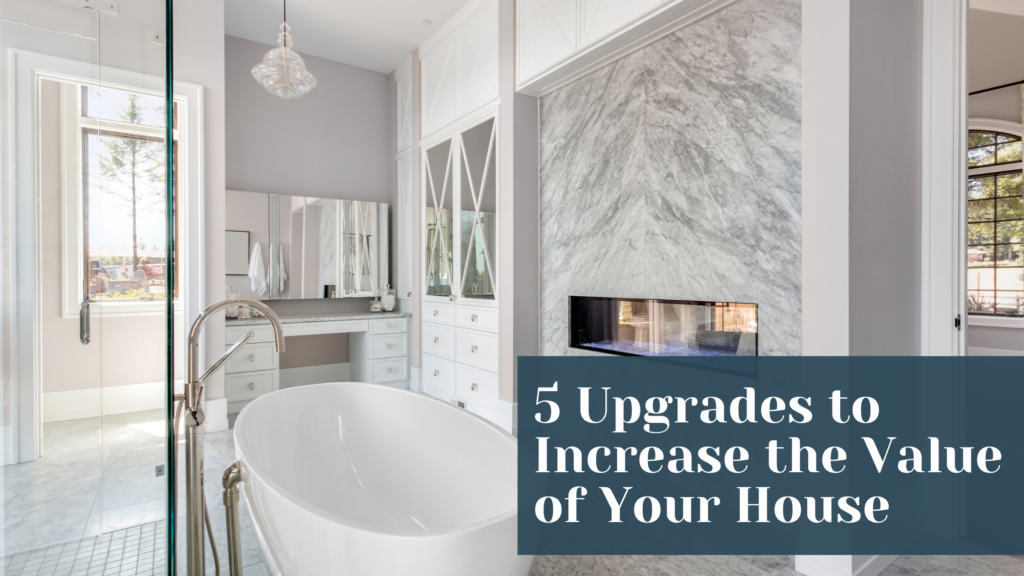 Do you believe increasing your house value is a task that's going to require lots of investment and effort?
Well, you're mistaken there. You know, just paying a bit of attention to the interiors and exteriors of your house can change the game for you ALTOGETHER. 'Optics' is what we're talking about here.The ONE thing that takes your house's value down is hard-on-the-eye optics. In simple words scars of negligence!
While just the opposite – pleasant and well-maintained houses – work as treat for the eyes and their value goes up. That's because people love to look at them and when they love to look at them they'll want to live in them. Make sense?
Now, let's take a look at FIVE easy upgrades that you can make to your home to make its value go up!
1) Touch Up the Walls
The walls are what make up your house in the first place, isn't it? So, the impression the walls of your house give and the stories they tell will make all the difference to your homebuyers or visitors.
Dirty walls with fading paint and a series of scratches, unfortunately will never impress anyone! So, buckle down and get painting! A bit of elbow grease along with a few canisters of paint (neutral color is best. Think soft grays and off whites) These small things should do the trick.
On the flip side, if you're on a tight budget just hose off the exteriors at least so your home gives welcoming curb appeal look from the outside.
2) Get the Blatant Repairs Done
Is your home shouting, 'I need repairs'?
One thing that prospective homebuyers will be on the look for is the repairs required in your house.
Which makes it safe to assume that the more repairs your house needs the less valuable it will look to buyers. Fair enough?
So, get ready to get down and dirty and stat fixing your home. Finish the repair work that may keep your home's value down. You will need to spend a bit on any repairs before you can expect a rise in the property value!
3) Upgrade the Windows
Naturally people are controlled by their sensory perceptions mostly, so it's important that you make your house the best sensory experience possible.
Windows play an important part roll there. If your homes windows have got broken plastic blinds, aluminum ones, or paper shades just get rid of them, they take away so much of the value.
Instead, consider putting up wood blinds, easy pull shades, or decent drapery. None of these have to cost a ton of money, and you can usually get really elegant ones for an affordable cost.
Also, make sure the windows are clean and allow enough sunlight in your rooms because houses deprived of sunlight give many visitors a very draining feel.
4) Boost Your Bathrooms and Kitchen
According to the cost vs. value report remodeling your bathrooms will recoup about 87% to 94% of your investment. Which means you should go about giving your bathrooms a fresher cleaner look and that alone will help to up your homes value.
So what improvements can you make?
First of all, consider re-grouting the floor, then you could repaint the walls and replace the old, outdated fixtures with newer, more fashionable ones. For around $40 to $100 you can get a new sink faucet, or spending just $80 you can install a spa-style luxury shower head.
As for the kitchen, a report from Remodeling Magazine says you can expect to gain back about 62 to 81 percent on your kitchen investment. But, there's no need to go crazy over the renovation.
Little improvements like repainting the cabinets, replacing old fixtures with their modern versions, and installing energy-efficient options can easily boost the appearance of your kitchen!
5) Give Your Home a Homey Look
That should be a no-brainer! Anyone coming to see your house on a showing will only feel good about it when your house has the 'this is home' feeling to it.
If your house is messy, the yard unkempt and the cellar looking like a ghost house most buyers won't think twice before walking away!
So, if you're looking to sell your house for a higher value make sure your house looks like a home.
A sweet, cozy home that any buyer would WANT to spend their life in!
Home Sweet Home…
In the end, it's still your home anyway, and it's up to you what type of home improvements you're interested in going for.
But, if you intend to sell your house down the road make sure the remodeling pays off on the sale. BECAUSE not every remodel will increase your house value. In fact, some will decrease it! But that's for another bolg
Click here to connect with me to learn more about what improvements you can do to sell your home quicker!